Location & Directions
Ingenieurbüro für angewandte Strömungsmechanik
Hans-W. Mindt und Wolfgang Ottow GbR

Kruppstr. 82-100 (ETEC V4)
45145 Essen

T: +49 (0)201 / 8127 223
F: +49 (0)201 / 8127 222
E: info@a-CFD.de

Our offices are located in ETEC (Essen's Technology and Development Centre). It is located in the centre of the Ruhr region. ETEC is very easy to reach either using public transport services or by car.

It takes about 20 minutes driving from Düsseldorf airport. The railway connection is even quicker. A subway station is right in front of the building. Essen's main railway station is a few minutes away.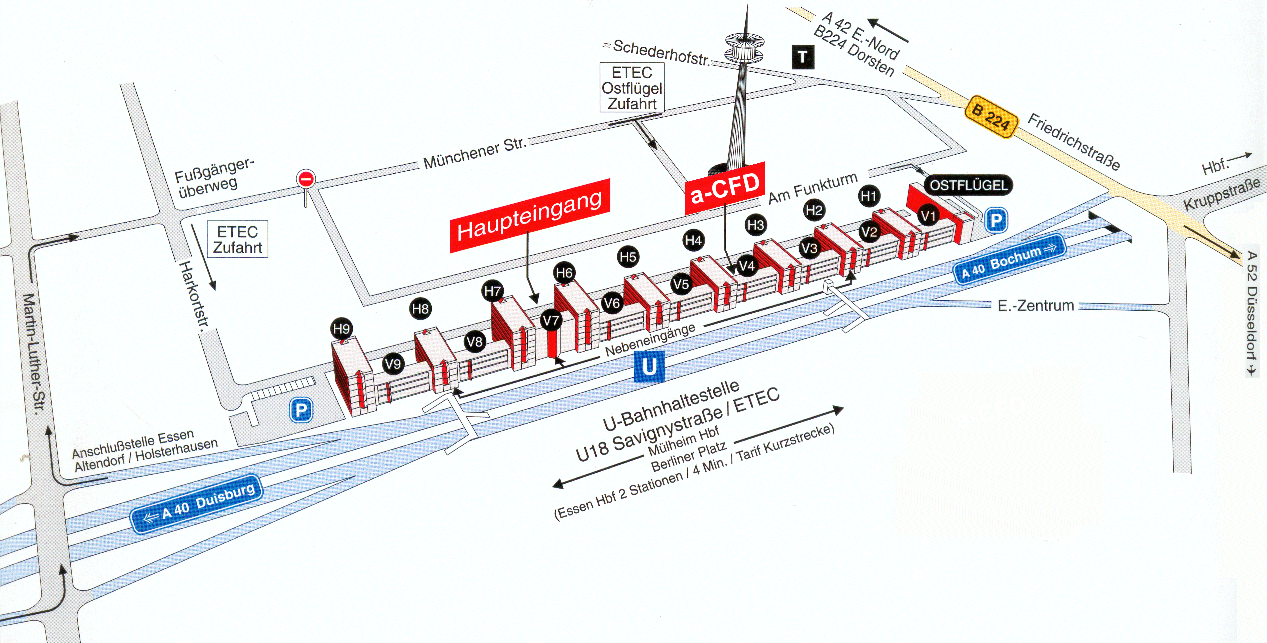 Travel by public transport services
Travel to Essen's main railway station (Hauptbahnhof)
Take the subway U18 in direction Mülheim Hbf and Wickenburgstraße
Leave the train at subway station ETEC / Savignystraße
Use one of the bridges to get to the second ETEC entrance
Our offices are in V4, 1st floor, rooms number 1.03 and 1.04

Here's the subway schedule
Travel by car
A40 coming from Duisburg (east)
Take highway exit Holsterhausen
Turn left, drive over the Hobeisen bridge
Turn right at the first traffic light in to the Münchener Straße
Turn right again into the Harkortstraße (dead end)
At the top of the hill take left into the Kruppstraße (ETEC entrance
You will find visitor's parking places in the west parking lot
The reception is in V7
Our offices are in V4, 1st floor, rooms number 1.03 and 1.04
A40 coming from Dortmund (west)
Take the highway exit Holsterhausen
Turn right
Turn right at the first traffic light in to the Münchener Straße
Turn right again into the Harkortstraße (dead end)
At the top of the hill take left into the Kruppstraße (ETEC entrance)
You will find visitor's parking places in the west parking lot
The reception is in V7
Our offices are in V4, 1st floor, rooms number 1.03 and 1.04
To the top